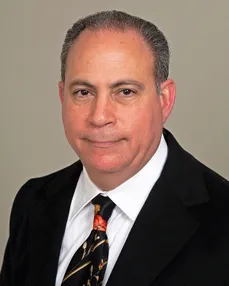 Jorge A. Martinez, M.D. is an Ophthalmologist specializing in cataract, laser and advanced vision correction surgery. He received his doctor of medicine degree from Tulane University School of Medicine in New Orleans. His postgraduate training was taken at the Naval Medical Center in San Diego, California.
Dr. Martinez served in the U.S. Navy as a medical officer for 12 years. During this time he served in the Persian Gulf war as medical officer of the USS Okinawa LPH3. He is well decorated for his military service including the highly regarded Navy Commendation Medal.
Dr. Martinez has practiced in the Treasure Valley since 1993. He is certified by the American Board of Ophthalmology and is a fellow of the American Academy of Ophthalmology and the American Society of Cataract and Refractive Surgery.
His medical philosophy is quite simply to provide one-to-one eye care and treat every patient as he would his own mother
---
Erik M. Ostler M.D.
Care Philosophy
Excellent vision is a most treasured sense and is fundamental to maintaining your high quality of life. Because of this, I work hard to ensure that you have access to world class eye care which includes world class technologies. I recognize the importance of the trust you place in me when you select me as your ophthalmologist. I put patients first by placing high priority on ensuring you have access to me when you need me. I continue the tradition of one to one eye care, and treating every patient as I would my mother.
Erik M. Ostler, MD is a board certified ophthalmologist and fellowship trained glaucoma specialist. I moved to Treasure Valley with my wife, Mindy, and 3 kids after completing 16 years of education and training. We love it here and plan to stay forever. I am originally from Bountiful, Utah. Most recently, we are coming from Cleveland where I completed a fellowship at the University Hospitals Case Western Reserve Medical Center, specializing in the medical and surgical treatment of glaucoma and complex cataract surgery. Prior to this, I spent 4 years in St. Louis completing my ophthalmology residency and internship. I earned my medical degree from the University of Utah, School of Medicine, and I earned my bachelor's and master's degrees from Utah State University in Mechanical and Biomedical Engineering respectively. I love my job. I enjoy getting to know my patients as I care for them. Please come by and see me if there is anything I can do for you. I look forward to meeting you.